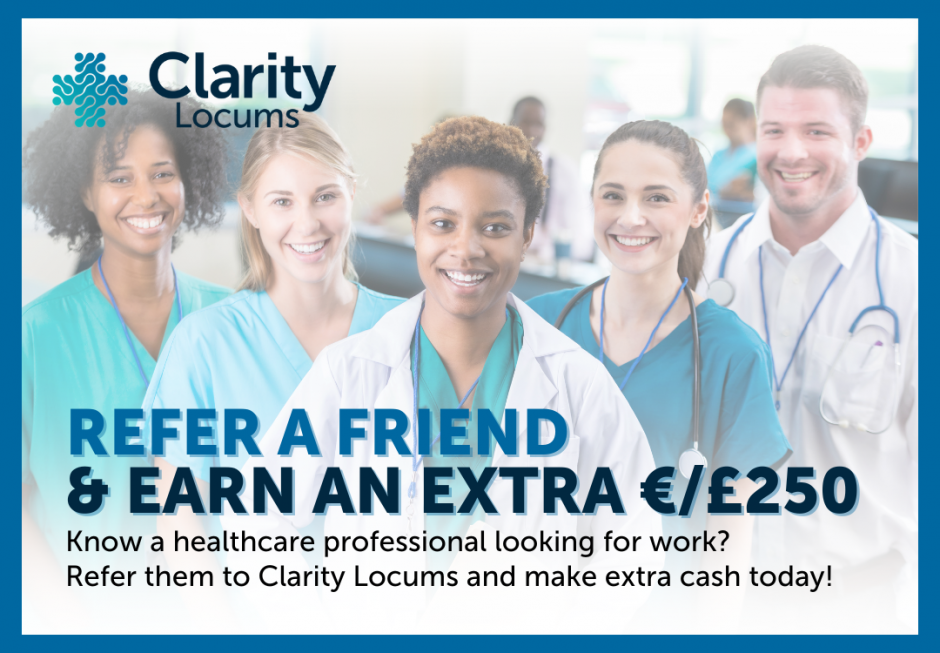 There are more ways to earn while working with Clarity Locums... Refer a friend for an extra €/£250!
At Clarity, we understand that our success is owed to the healthcare professionals who choose to work with us - whether you're a locum pharmacist, agency nurse, GP, or otherwise! To recognise this loyalty and dedication to our agency, we want to give back and reward our locums, which is where our 'Refer a Friend' scheme comes in.
From May 2023, we are now offering all healthcare professionals a €/£250 One4All gift card for each locum they refer.
Simply ask your friends or colleagues to sign up using your unique referral code, or mention your name during the sign up process. Once the locum starts working for Clarity, and completes 10 locum shifts, you will be eligible for a €/£250 One4All gift card.
Terms and Conditions
You must ensure that the referral enters your name in the referral field during the sign-up process.

The referral locum must have a valid registration number for their relevant regulatory body and be eligible to work in the UK or ROI. The referral locum must be fully compliant in terms of mandatory training.

The referral must complete onboarding and work at least 10 shifts before the gift card can be issued.

You can claim this benefit for every locum who registers and works with Clarity Locums. Payments will be issued a One4All online voucher.

The payment can only be processed through the named person on the relevant regulatory body certification.

It is your responsibility to claim the One4All voucher by no later than 3 months after the referral locum has completed their 10 shifts by contacting their dedicated recruitment consultant.

The referee will not be eligible to receive the referral gift under this scheme in the event that the referred person is already on the Clarity Locums database at the date of referral.

Candidates can only be referred to Clarity Locums once. In the event that a candidate is referred to Clarity Locums by more than one referee, only the first person to refer that candidate to Clarity Locums (with the referred person's permission) will be eligible for a referral fee under this initiative.

Clarity Locums reserves the right to vary or terminate all or part of the terms of the referral scheme at any time without notice.

In the event of any dispute regarding these Terms and Conditions, the rules of this scheme, conduct, results and all other matters relating to the scheme, the decision of Clarity Locums shall be final.

These Terms and Conditions shall be governed by the laws of the Republic of Ireland and parties submit to the exclusive jurisdiction of the Irish Courts.